How To Install Google Chrome Extension On Firefox
Finally I found a way to install Google chrome extensions on Firefox as well as Safari.Mozilla has a plug in earlier(Google Chrome extensions manager) to do the same , but later they disabled it.
Extension factory service converts Chrome Apps and Extensions to a Firefox and Safari version.
Just Follow the below steps:
Go to Chrome Webstore and open extension which you want to install(Eg:- Gmail Mail Checker)
Copy the Chrome WebStore ID. Refer the below pic if you are not aware of WebStore Id.

Then Open Firefox or Safari visit following URL  http://gallery.extensionfactory.com/labs/conversion/  .Enter or Paste the WebStore Id in given text box as shown below

Then Press Convert Button.
If Success you will be showing download options as shown below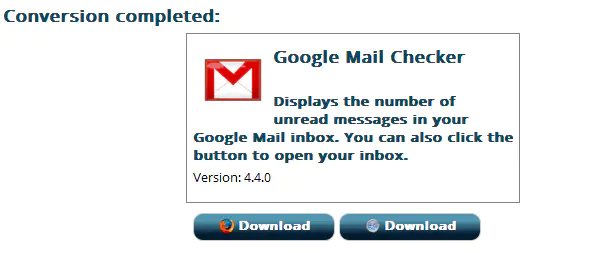 Instead of entering Web Store Id manually you can directly download .crx or .zip extesnion and you can upload it into extension factory as shown in the above pic (Upload package)
But I feel copy pasting is the best way to do as no need to download package into our local drive and upload it again.
Bonus Tip :  Has he or she read my email yet? are they Ignoring You Find your email has been read by the recipient! No More Guessing
Whether it will work for All extension ?:
It's a beta version and And some extensions may not be converted. But I checked almost all major extensions on Mozilla all are working,but with safari it's having some compatible issues.
But for Mozilla it's working fine.
If it's not working Then?
Contact  extension factory them through contact us page hope they will help. But For me almost all extensions are working as expected (Only in Mozilla)
Bonus Tip :  Forgot important link what you have searched Long back Don't worry we have A search engine for what we have seen before
And The easy way to Print All Gmail Emails in a Label or Folder at a time Without any software..